Axial plunger pumps variable, high pressure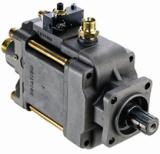 SUNFAB variable piston pump
SUNFAB Variable piston pump.
PTO mounting flange with shaft DIN 5462 or mounting flange SAE and 14 teeth shaft. Continuous pressure 350 (400) bar, different controls: loadsense- or pressure compensator and/or power limiter. Option: trough drive for displacements of 62 and 130 cc/r.
Option: rear drive connection for mounting second pump. Alternative for Leduc TXV pumps and Parker VP1 pumps More information (pdf)
Also by building models available alternative Leduc TXV series and Parker VP1 Series pumps download pdf
SUNFAB model
DIN 5462
SAE-C / 14T spline
Displacement
Operating pressure continuous
max speed
SVH 062
x
x
62 cc / rev
350 bar
2500 rpm
SVH 092
x
x
92 cc / rev
350 bar
2300 rpm
SVH 112
x
x
112 cc / rev
350 bar
2200 rpm
SVH 130

(NEW)

x
x
130 cc / rev
400 bar
2100 rpm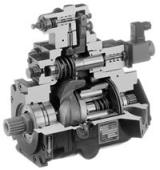 HAWE – INLINE variable high pressure piston pump
HAWE – INLINE variabele high pressure piston pump

Different controls are possible. Mounting flange: ISO flange with ISO keyed or splined shaft, SAE flange with splined SAE shaft. Option: Thru-drive versions (SAE 2 or 4 bolt).

Model
Displacement
Working pressure continuous/peak
Mounting flange
Weight
Noise level
V30D 045
45 cc/omw
350/420 bar
ISO 125 / SAE-C
40 kg
72 dB(A)
V30D 075
75 cc/omw
350/420 bar
ISO 140 / SAE-C
60 kg
74 dB(A)
V30D 095
96 cc/omw
350/420 bar
ISO 160 / SAE-D
70 kg
75 dB(A)
V30D 115
115 cc/omw

250/300 bar

ISO 160 / SAE-D
70 kg
75 dB(A)
V30D 140
142 cc/omw
350/420 bar
ISO 180 / SAE-D
85 kg
76 dB(A)
V30D 160
164 cc/omw
250/300 bar
ISO 180 / SAE-D
85 kg
76 dB(A)
V30D 250
260 cc/omw
350/420 bar
ISO 180 / SAE-D
130 kg
77 dB(A)
V30E 095
98 cc/omw
350/420 bar
ISO 160 / SAE-D
54 kg
73 dB(A)
V30E 160
160 cc/omw
350/420 bar
ISO 180 / SAE-D
74 kg
74 dB(A)
V30E 270
270 cc/omw
350/420 bar
ISO 180 / SAE-D
126 kg
78 dB(A)
Controls:
Pressure compensator
N
Electric hydraulic control
EM.CH / V
Loadsensing
LSN
Power limiter (torque limiter)
L
More possibilities
Thru-drive
SAE mounting