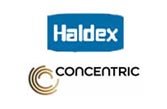 HALDEX

HALDEX, formally known as Vickers / John S. Barnes gear pumps, is one of the oldest representations from R&S Hydrauliek.
In 2013, the name HALDEX has been changed into CONCENTRIC
HALDEX / CONCENTRIC has a wide range of gear pumps, working pressures up to maximum 300 bar and a lot of mounting faces / shafts in the program.
HALDEX / CONCENTRIC can also offer a complete solution for Fandrive systems.
HALDEX / CONCENTRIC can offer a complete range power packs for DC and AC E-motors (Old Hesselman units).